Home
Details

Written by

Mark Emiley

Parent Category: Wine
Category: Wine Events
Hits: 69
Below are the results of the 2017 Winefest. Thanks to all who participated but even bigger thanks to those who helped make it happen!
Winemaker
AVG SCORE
RIBBON COLOR
Entry Name
Info
Fred
Mazzitelli
18.75

GOLD

2014 Syrah
100% Stillwater Creek Syrah, 2014, N
Mike
Doherty
18.67

GOLD

2015 Doherty Cellars Petite Verdot
2015: 100% Les Collines Petite Verdot. Chilled No
Laraine
Volpe
18.67

GOLD

Red Blend
2015 Cab/Merlot
Fred
Mazzitelli
18.33

GOLD

2016 Chardonnay
100% Chardonnay, 2016, Y
Joe
Sikora
18.00

GOLD

Joe Sikora - Syrah
Syrah (100%), 2012, N
Tom
Wiitala
18.00

GOLD

Cabernet Sauvignon
2014 95% Cabernet Sauvignon, 5% Petit Verdot, No Chill
Jon
Barbour
17.50

GOLD

Barbour Wine 3
2014 Yakima Valley Cab Sauv, Dineen Vineyard, 85% Cab Sauv, 15% Petite Verdot, French Oak
Jon
Barbour
17.00

GOLD

Barbour Wine 1
2013 Artz Vineyard, 100% Cab Sauv, Hungarian Oak
Kevin
Neal
17.00

GOLD

2013 Cab franc Neal Cellars
Neal Cellars
Joe
Enright
16.75

SILVER

15' Syrah
Morrison Lane
Mike
Doherty
16.67

SILVER

2015 Doherty Cellars Tower Red
2015: 43 Les Collines Syrah, 25 Arianses Merlot, 17% Artz Cab, 10% Peitit Verdot and 5% Artz Cab Franc. Chilled No
Donald
Meyer
16.67

SILVER

Camillus Cabernet Franc
100% Cabernet Franc Artz Vineyard Red Mountain, WA 2016
Tom
Wiitala
16.50

SILVER

Petit Verdot
2014 100% Petit Verdot, No Chill
Joe
Sikora
16.50

SILVER

Joe Sikora - Cab Franc
Cab Franc 100%, 2011, N
Mike
Doherty
16.25

SILVER

2015 Doherty Cellars Red Mountain Cabernet
2015: 100% Red Mountain Cabernet (Artz). Chilled No
Kevin
Neal
16.00

SILVER

2013 Cabernet Sauvignon
Kathryn
Chalfan
15.83

SILVER

2014 Merlot
Merlot 100%, 2014, chilled=N
Kevin
Neal
15.07

SILVER

2013 Sangioese neal CelARS
Neal Cellars
Tom
Wiitala
15.00

SILVER

Syrah
2014 100% Syrah, No Chill
Jon
Barbour
15.00

SILVER

Barbour Wine 2
2014 Ciel du Cheval, 100% Cab Sauv, Hungarian Oak
Kevin
Neal
14.83

BRONZE

2012 Meritage
Cabernet Sauvignon (25%), Petit Verdot (25%), Syrah (25%), Merlot (15%), Cabernet Franc (10%)
Joe
Sikora
14.75

BRONZE

Joe Sikora - Pinot Noir
Pinot Noir (100%), 2015, N
Kevin
Neal
14.25

BRONZE

2012 Cabernet Sauvignon
Dennis
Campbell
14.00

BRONZE

2014 Cabernet Sauvignon
Cabernet Sauvignon 100%, 2014, chilled=N
Marty
Wistman
12.75

BRONZE

2016 Cab Sav Corvus
Corvus
Tom
Wiitala
12.50

BRONZE

Merlot
2014 85% Merlot, 15% Petit Verdot, No Chill
Donald
Meyer
12.50

BRONZE

Sebastien Syrah
95% Syrah, 5% Viognier 2015 Morrison Lane Walla Walla, WA
Kevin
Neal
12.25

BRONZE

2012 SYRAH
Neal Cellars
Mike
Doherty
12.00

BRONZE

2015 Doherty Cellars Syrah
2015: 100% Syrah from Les Collines. Chilled No
Mike
Doherty
12.00

BRONZE

2015 Doherty Cellars Cabernet Franc
2015: 100% Artz Cabernet Franc. Chilled No
Details

Written by

Mark Emiley

Parent Category: Wine
Category: Wine Events
Hits: 72
Fundamentals of Wine Making Class
Saturday, August 26, 2017
9:00 am to 3:00 pm
The Boeing Employees Wine and Beermaking Club (BEWBC) is once again offering an introduction to winemaking class.
This is a multi-part program during which we will review and discuss the principal steps and decisions required to make quality red wine. The class will meet again when the grapes are delivered and crushed and again when the grapes are pressed. In addition there is a post-fermentation follow-up class focusing on the student's wine in preparation for bottling.
Students will have the opportunity to purchase quality WA grapes and proceed through the entire winemaking process in parallel with other's in the class. The instructor will take you through the crushing and fermentation process and help you with post fermentation pre-bottling decisions.
Admission for the class is $40 which includes many of the materials needed to get your fermentation properly underway. Please note though, that the cost of grapes (typically around $140) is not included in the class fee. Space is limited so act quickly to reserve a spot.
For more information and to register for the class contact Steve Foisie: This email address is being protected from spambots. You need JavaScript enabled to view it.. The class will be held at Steve's home near Fall City.
For those who joined the fun and those who couldn't make it. Check out the tour's video report. Thanks Laraine for organising the trip and Marty for making it even more fun!
Alexey Smirnov
Wine VP
The Yakima Valley Bus Tour was a lot of fun and a huge success. We had one person sign up for membership on the tour, with another two serious inquiries on joining the club. This brings our total membership count to 102.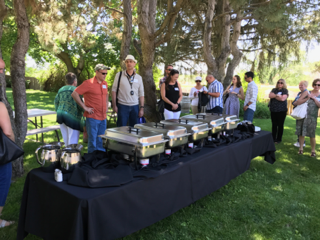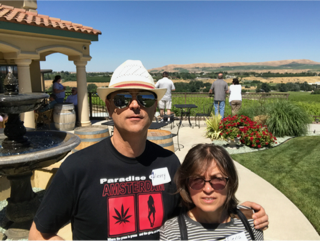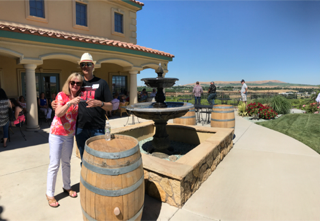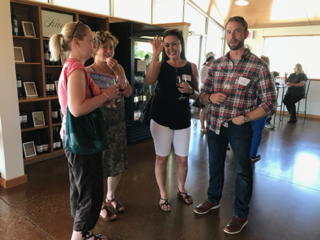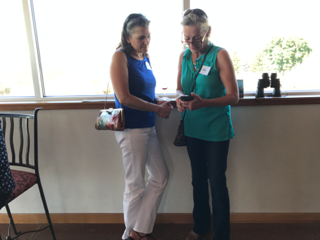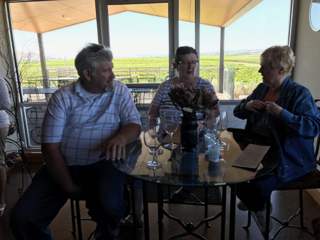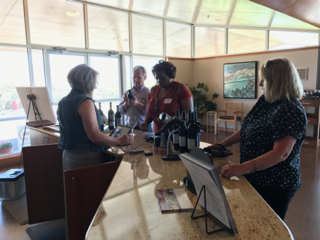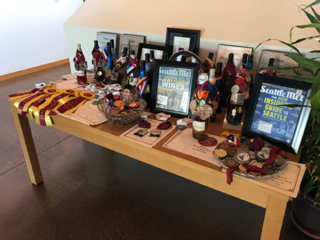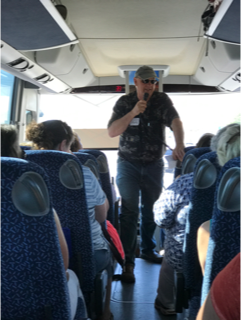 Few things to pass along to folks.
1. The joint BEWBC and Impaling Alers beer meetings are still happening, despite Larry's Brewing Supply closing. They are now held at Airways Brewing Company (near the old Larry's location - 8611 S 212th St, Kent, WA) on the third Friday of every month, from 7 to 9 pm. Same great meetings, different place.
2. Start prepping for this year's Beerstock. This homebrewing celebration of beer held in Orting, WA will happen on July 22nd this year. Start brewing for serving beers at the club booth today. If you are intersted in participating, let Mark Emiley know.
3. Next year's National Homebrew Conference will be in Portland! Start thinking about participating today. For information on Homebrew Con, go to https://www.homebrewcon.org/ .