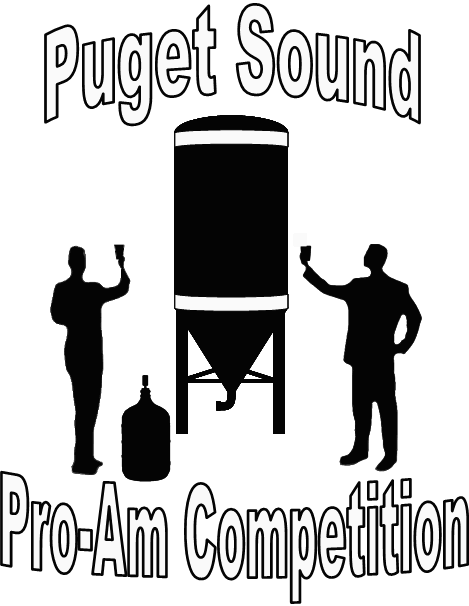 The Puget Sound Pro-Am is coming up at the end of May.  Time to get your final entries ready, bottled, and entered into the competition.  We've got new breweries this year and hope to grow the competition again this year.  Entries are due at the numerous drop locations between May 11th and 26th.  For all of the details on the website, go to http://www.bewbc.org/pro-am
You can enter your entries online here:
http://www.hordsoffun.com/hbc.rw/regwiz.aspx?w=02040C073B
We need help!  There are tons of tasks that we need help with.  Entry pickup, food arrangements, judging, stewarding, entry processing, etc.  Please contact Mark Emiley if you can help out (markemiley@ earthlink.net).  You can get started by volunteering online at:
http://www.hordsoffun.com/hbc.rw/judgewiz.aspx?w=02040C073B
Keep reading for the detailed schedule. 
Here is the current schedule:
Wednesday, May 27th, 2009 - Entry pick-up
- People designated for collecting drop-off entries bring entries down to Larry's Brewing Supply
- All club's with coordinated drop-offs bring entries to Larry's Brewing Supply
- Entry pre-processing if necessary
Thursday, May 28th, 2009 - Entry processing date
- Event organizers and entry sorting volunteers arrive at Larry's at 6:00 pm
- Received entries are entered into the database, tagged, and stored in the cooler
- Supply inventory is checked and the final supply pick-up is arranged
Friday, May 29th, 2009 - Entry processing backup and final preparations
- Final supplies are picked up (extra forms are printed as needed)
- If additional sorting of entries is needed (as determined on Thursday), entry sorting volunteers arrive at Larry's at 6:00 pm to process entries
- Tables and chairs for judging are set up at Larry's
Saturday, May 30th, 2009 - Competition Date
- 8:00: Event organizers, set-up crew, and stewards arrive at Larry's (final event setup, beer preparation, and staff orientation)
- 8:30-9:00: Judges arrive and process
- 9:15: Final announcements and judge preparation
- 9:30-11:30: First round judging
- 11:30-12:30: Lunch and second round preparation
- 12:30-2:30: Second round judging (if necessary)
- 2:30-3:00: Best-of-Show round preparation
- 3:00-4:30: "Official Best-of-Show" judging (BJCP format)
Thanks for your help in making the 2009 Puget Sound Pro-Am happen!
 -------- 
On behalf of BEWBC, the Impaling Alers, and WAHA, we are happy to announce the kick-off of the 2009 Puget Sound Pro-Am!  This is the country's largest GABF Pro-Am qualifying competition with 10+ breweries selecting homebrew recipes to scale up (more breweries still being added!)  Last year the PSPA sent 11 of the country's 58 entries into the GABF Pro-Am and brought home the gold medal!  We are hoping for a repeat!
This is an AHA/BJCP sanctioned competition aimed at providing award winning homebrew recipes to be brewed by Puget Sound breweries with the goal of capturing a medal from the Great American Beer Festival's Pro-Am Competition.  The Puget Sound Pro-Am is unique in that it will have at least TEN breweries selecting their favorite homebrew beers from the best of show round to scale up and brew on their systems.  Winning beers of AHA members may be sent on to the GABF for a shot at national glory!  Not from the Puget Sound area?  Out of state entries are more than welcome (the 2008 GABF gold medal winning entry was from a Colorado brewer).  Non-AHA members can still enter the competition and win other awards and prizes (the Powerhouse Brewery will not be submitting to the GABF and will be free to pick any entry).  Read on for more information or just go to www.bewbc.org/pro-am for the complete competition overview.
Start dreaming and brewing up your entries today!  We want you to have plenty of time to brew up that perfect beer!  The brewers are not just looking for stylistically accurate beers, but they will be looking for damn tasty beers.  This is a perfect shot for that hybrid beer you make.  You've got plenty of time to brew up entries specifically for one of the slots!
Check the competition website at http://www.bewbc.org/pro-am for the latest details including participating breweries, desired styles, contest rules, and links to online registration.  Entries (three 10-12 oz brown bottles) are due May 26th with an entry fee of $6 per beer submitted (several drop-off locations accepting entries beginning in May).  Judging will be held on May 30th at Larry's Brewing Supply in Kent (if you are interested in judging, stewarding, or helping with event execution, contact Mark Emiley at This email address is being protected from spambots. You need JavaScript enabled to view it. or register online).  Winners will be selected in the weeks following.  Check the website frequently for updates on participating breweries and contest details as the competition grows.  To have the best shot of having your beer brewed, you need to be an AHA member by the time of the competition, so join today!  Invite your friends to join the AHA and submit beers as well (all beers will be judged and ranked regardless of AHA membership).  Good luck, and may your wildest brewing dreams come true!