BEWBC's Winefest this year was a special event. This article features this year's Winefest judges and some of the excellent comments they made about the club's wine making. It's clear that Boeing Employee Wine and Beer Club continues to do a fantastic job mentoring and supporting excellent wine making and wine appreciation for club members.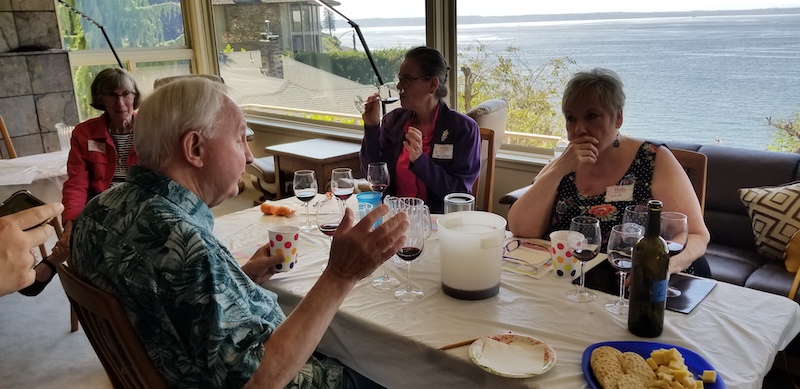 The judges at Winefest this year were treated to a stunning backdrop of Puget Sound while they worked. A special thank you to Dennis Campbell for once again hosting the event at his beautiful home. Our judges this year were John Bell, Eva Gallagher, Steve Meherg, Lois Shumski, Tim Narby, Tracey LaPierre and Paul Woodward. Have fun reading their interesting bios below.
John Bell
John Bell is the winemaker and sole owner of WILLIS HALL, LLC. In the early 1980s, John developed an interest in wine appreciation. Pursuing all avenues to learn about wines for over 15 years, John determined that further learning could come about only by his actually making wine. Because he was an employee of The Boeing Company, John availed himself of the opportunity to join the Boeing Employees' Wine and Beermakers' Club, a.k.a. the Boeing Wine Club, giving him access to the accumulated experience of fellow members, some of whom had started commercial wineries, as well as access to some of the most highly regarded vineyards in Washington State. John's palate, developed from his earlier wine education, enabled him to fashion wines that were awarded Best-of-Class, Gold, and Best-of-Show awards. The next logical step for John was to start WILLIS HALL, so that his wines could be made available for general purchase, consumption, and enjoyment. Vintage 2003 was the inaugural vintage for WILLIS HALL. In 2004 John retired from Boeing and is now making wine full time at WILLIS HALL. And in April 2006 in their inaugural Washington Wine Awards, Seattle Magazine honored John by naming him Best New Winemaker in Washington. He has also judged the amateur wine competition at the Evergreen State Fair in Monroe for several years. The name WILLIS HALL was drawn from the names of two members of John Bell's family and was chosen to honor two special individuals who were significant in John's life. WILLIS was John's father's middle name, and HALL was John's maternal grandmother's maiden surname. Even today, long after their passings, John feels a continued connection with them and the love they shared while in this life. By crafting his wines with passion, John feels that each bottle of WILLIS HALL wine has been touched with this special feeling, a connection that he wishes to share.
Eva Gallagher
I am a year 2 student of the American Wine Society Wine Judge Certification program. I have judged at the Washington State Fair wine competition, am an amateur wine and cider maker, a member of the Puget Sound chapter of the American Wine Society and Puget Sound Amateur Wine and Beermakers club. I am also growing winegrapes in my fledgling vineyard in Auburn, WA. You may reach me via email; This email address is being protected from spambots. You need JavaScript enabled to view it.
Steve Meherg
A licensed psychologist by day, I have been a wine enthusiast engaged in touring, education, and formal tasting for 30 years. I hold certification through the Society of Wine Educators as a Certified Specialist of Wine (CSW). Over the last 15 years, I've had the opportunity to gain hands-on experience in most all elements of wine production, service, and industry, including the chance to form relationships with vineyards, wineries, and professionals from all over the Pacific Northwest as a brand ambassador, tasting room host, educator, and tour coordinator. I love the spirit of openness and collaboration within the Northwest wine industry, and am passionate about exploring, supporting, and promoting our regional wines. While enjoying a busy work life, I continue to find that wine offers many rich and exciting opportunities to unite people in unique ways. I rarely have as much fun than when leading a tasting experience or wine tour. mvinology.com>
Lois Shumski
I grew up in Edmonds. My father worked as an electrical engineer at Boeing for 37 years. For 30 plus years I've been in the restaurant/grocery/beverage industry. I worked as a beverage catering director for Gretchen's of Course, pairing beverages and food. Currently I am the wine buyer for Olson's Food Emporium in Mukilteo. I deal with over 40 wholesale wine distributors on a weekly basis and have over 3500 wine sku's in my store. Before I bring a wine into my store set, in most cases, I have personally tasted it, so I can help match my customers wine selections to their palettes or food choices. Being a gourmet cook, one my favorite aspects of the business is being able to correctly match wine with food. I have a great respect for different wines for different reasons. The thing I enjoy most about my job is that it is constantly changing. I learn something new everyday. Whether it's from a customer, a vendor, a winery, a wine maker, or even a friend, there's always something to learn.
Tim Narby
I am currently part owner, president, and winemaker at :Nota Bene Cellars. We just released six wines from our 2006 vintage a few weeks ago to accompany two 2006 wines released at our Harvest Party last Thanksgiving. 2006 was our sixth vintage release at :Nota Bene and we are on the way to putting 2007 wines in the bottle in a few months at the end of June. 2001 was our first commercial vintage, but I've been a member of the wine club since 1987. We are a small winery in the South Park neighborhood of Seattle and belong to the South Seattle Artisan Winery association (SSAW). See www.ssaw.info for links to all of the wineries. We are making about 1000 cases of wine per year and are currently specializing in Bordeaux and Rhone blends. See www.notabenecellars.com for tasting notes and more. I enjoy my association with the BEWBC and have learned a heck of a lot about winemaking over the years thru my friends and associates at the club. I'm always impressed with the results of the club's efforts at Winefest and am looking forward to tasting again this year.
Tracey LaPierre
Tracey LaPierre is the owner and enologist for Seattle Wine Lab and Consulting Services, which offers a full-service lab for home or commercial wineries in Seattle and the surrounding areas. She has over 16 years of production experience in the wine industry. Tracey started her career in the Finger Lakes region, in upstate New York, working for a small Riesling focused winery as a lab manager, compliance officer, cellar hand then assistant winemaker. From there, she moved to Sonoma, California to hone her winemaking and analytical skills, working for iconic Sebastiani Vineyards. In 2011, Tracey moved to Washington State to work as a winemaker and consulting enologist for many small to mid-size wineries in western Washington. Her lab is focused on comprehensive, accurate, and rapid results that provide a clear, unbiased and a practical approach to winemaking. http://www.seattlewinelab.com/
Paul Woodward
35 years retired Boeing employee. 18 year member of BEWBC. Past club treasurer. Extensive experience in making some great wines but mostly good wines. What a humble guy!
At Winefest this year, our esteemed judges made some observations about the quality of wine making and trend of outstanding
This year, the wine making was resoundingly excellent, as the judges and members can testify. In years past, a decent but small number of wine entries were advanced to be candidates for Best in Show. This year, over 20 different wines were advanced to be Best in Show candidates. Only one red and one white is chosen for Best in Show honors, so narrowing the field down was difficult.
Judge general comments about the wines this year were:
"These are all stunning!"
"The club wine making has gone up many notches."
"I would buy any of these from the store."
"I'd like a case of each!"
With such glowing reviews, it is easy to be proud of our wine makers, and the asset the club is promoting excellent wine appreciation and wine making experiences for its members.
Winefest is a big event for Boeing Employees Wine and Beer Club every year. Wine club members get a chance to enter their wines into the festival where they are judged by professional wine tasters. It is a chance to learn from your wine making efforts, taste what other wine makers are creating, and visit in a fun atmosphere with local wine, dinner, and friends.